What Does It Mean to Zone My HVAC System?
Posted by Ralf Schulz on March 8th, 2017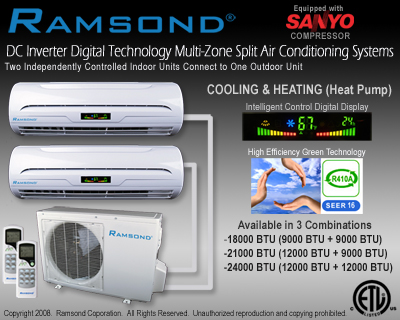 As you consider new heating and cooling systems, you've likely come across the many advantages of a ductless air conditioning system. As you've looked into those options, you've likely further discovered that there seem to be two options: single-zone units and multi-zone ductless air conditioners. What exactly is the difference? And which one is right for you? These are just a few of the questions AC-World will answer below. If you have additional questions, feel free to reach out to us and take advantage of our wealth of experience.
A zoning system helps you use your house the way you want to
Put simply, choosing a multi-zone AC means that you can use your house the way you typically use it. For example, do you have family members who fight over what temperature the thermostat should be? Or do you have areas of your home that aren't generally in use and therefor don't need to be cooled?
If so, then a multi-zone system is likely to be a better bet than a single-zone AC because a multi-zone option lets you divide into separate areas – otherwise known as zones. You can change the temperature in each zone, or even leave certain zones off when they're not in use. Not only does this help you ensure that everyone in your home can be comfortable, but it will lower your utility bills. After all, why would you want to pay to cool a part of your home that you're not even using?
There are other reasons to choose a multi-zone unit
At AC-World, you can count on our units to be quiet and to offer you a ton of control. They can also be equipped with variable speed and / or two-stage HVAC systems, which means that you can use them for cooling and heating, and that you get peak performance all the time – while lowering your usage. The lower your speeds are, the quieter your unit is, and the lower your utility bills are likely to be.
Come to AC-World with all your questions
If you're interested in these units then visit our website and find factory-direct prices that can make this an option that works within virtually any budget. If you're not yet convinced then feel free to call or reach out to us online. We have years of experience and are happy to answer your questions. We are here to help pair you with the right HVAC system for your needs.